Childrens Sewing Machine Reviews


Reading various childrens sewing machine reviews can assist you in finding the quality childrens sewing machines to give to your child.
Sewing machines meant for children are smaller than adult sewing machines, are simpler to operate, are available at reduced prices and are fun to use. Even adults who sew occasionally prefer using these sewing machines because of their simplicity and ease of use.
Kids indulge their creative sides when given a sewing machine by learning how to make doll clothes, crafts, simple pieces of clothing and costumes. Because these machines come equipped with proper safety measures, older children will be able to sew with minimal supervision.
Here are some children's sewing machine reviews, which may help you decide which one is right for your child:
Hello Kitty Sewing Machine
Janome 18750 Hello Kitty Computerized Sewing Machine
This compact, computerized sewing machine has received positive  reviews for its durability and ease of use. Don't be deceived by its cuteness:  this is a fully functioning machine. It features fifty built-in stitches plus 3 styles of one-step buttonholes, this machine has all the features that the budding sewist (and experienced sewist, for that matter) could need! This model of the Hello Kitty also includes:
Easy Reverse stitching button for seam reinforcement
7 Piece feed-dog, drop feed dog

Free-arm design for hard-to-reach areas

Slide On Presser feet

Equipped with a handle for easy portability
One-Hand Needle threading
Start/Stop Button

Speed control slider

Locking Stitch button

Manual Tension Control
Auto-declutch bobbin winder
Extra high presser foot lift
LCD screen
7mm Max. stitch width and 5mm Max. stitch length
Soft Cover is included

Janome manufactures this machine and prices it at around $260.
Alex Toys Sew Fun Childrens Sewing Machine Reviews
Alex Toys Sew Fun Electric Real Sewing Machine with Activity Kit
Truly, a sewing machine for beginners, this machine will not frustrate younger children and comes with everything a young sewer needs to begin creating clothes, crafts and other items. In comparison to other children's sewing machine reviews, most people love the fact that even a six year old can operate this sewing machine. Specifications include:
4 bobbins
2 machine needles
Pin cushion
Sewing needles
Straight pins
Scissors
Thread
Buttons
2 yards of fabric
Measuring tape
Thimble
Ribbon
Adjustable stitch lengths
Drop-in bobbin
2 speeds
Uses a foot pedal just like adult sewing machines
Presser foot that is designed so little finger cannot slide under it.
Alex Toys manufactures the machine, which generally retails for around $75.
More Childrens Sewing Machine Reviews
Michley LSS-505 Lil' Sew & Sew Multi-Purpose Sewing Machine with Built-In Stitches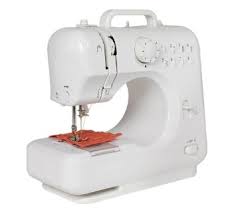 Michley LSS-505 Lil' Sew & Sew Multi-Purpose Sewing Machine with Built-In Stitches
Childrens sewing machine reviews considered this Lil' Sew sewing machine to be a handy, lightweight and easy to use machine on which children can learn how to sew. Features include:
Eight different built-in stitch patterns
Double speed, double thread, reverse and forward sewing
Able to sew sleeves
Automatic thread rewind
LED sewing light
Come with two spools of thread; 2 bobbins, needle, foot pedal, and AC adaptor
Start with foot pedal or hand switch
This machine sells for around $70.
Brother LS2125i Sewing Machine


Brother LS2125i Easy-to-Use, Everyday Sewing Machine with 10 stitches including Blind Hem and Zigzag, and 4-Step Auto Buttonhole
This machine is actually a full size sewing machine for both the beginning and experienced sewist.  Although it doesn't look like  traditionally coloful, toy-like machine marketed for children this is a great starter machine for beginners due to its simplicity and durability.  There's no need to be overwhelmed when learning to sew! It would be great to take to classes as it is lightweight and portable.
It features 10  basic stitches, including zigzag and blindhem stitching.  It has a 4 step buttonholer.

Other features of the Brother LS2125i include:
Free arm or flat bed sewing

Foot pedal control
Built in Storage compartment
3 Presser feet

The Singer Lockstitch sells for around $70.
Before purchasing a sewing machine for a child, read childrens sewing machines in order to help you decide which one is perfect for your budding seamstress or fashion designer.
Return to Sewing Machine Reviews Page
Return to the top of Children's Sewing Machine Reviews

Return to CreativeSewingTips.com Home Page