Simple Sewing Projects For Everyone!
Novice and experienced sewers enjoy simple sewing projects. There are even great sewing projects for kids that are fast, simple and loads of fun!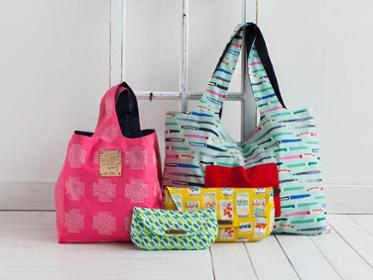 Having the ability to create a gift or give an old room a new look quickly are just two reasons these projects are so pleasurable.
Craft Projects
Some of the best simple sewing projects are crafts . Personalizing everyday items with whimsical characters or bold designs takes only a few minutes. Use scraps of ribbon to create a soft case for eyeglasses.
Make tote bags for carrying groceries home. Add a pocket to a beach towel and turn it into a cover-up.
Creating a hooded baby towel is easy. These are just a few of the quick sewing projects that take less than an hour to complete.


Tots and Toys
You can make hundreds of toys and toddler projects in less than an hour. Sewing a stuffed animal using scraps can bring a storybook to life. Bears, snakes, turtles and fish are just a few of the many animals that can be sewn in minutes.
Finger and hand puppets sew up quickly to keep little ones entertained on a rainy day. Felt strips and an old blanket become a play mat complete with streets, airports and lakes.
Sewing dolls and doll clothes doesn't have to be difficult. Using Barbie doll clothes patterns , for example is a great way to use up leftover scraps of fabric! Often the most treasured toys are the ones made at home.


Around the Kitchen
Simple sewing projects can spruce up a kitchen and provide a new look. Cut, trim and hem worn bath towels to give them a new life as kitchen towels.
Bag holders are easy to make from any fabric. They require one seam, two casings, a piece of elastic and a decorative cord for a hanger. Now you've provided a place for all those grocery sacks to stay!
Placemats, napkins, pot holders and coasters are other simple sewing projects that work up quickly.
Why not try to recycle old clothes ? Complete an apron project made from old dresses, denim jeans or bath towels in under an hour.


Clothing
Many articles of clothing can be sewn in under an hour. Wrap skirts and jumpers are quick easy projects to complete quickly. If you use heavier fabric, these types of sewing projects will keep you or that special child warm when it's cold.
In just minutes it's easy to make cover-ups for the beach or poolside using lightweight fabrics. Make sweatpants that require only six seams for children of all ages.


Fleece
The soft comfortable, cozy feel of fleece makes it ideal for use in creating many projects. Turn a fleece blanket into a snuggie in minutes.
Sew a hat, scarf and mittens out of fleece quickly. Ponchos made from fleece are just what's needed when dashing out to the mailbox or bringing in the cat. Easily make these ponchos in less than an hour.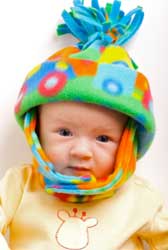 There are hundreds of these sewing projects available. Locate these and many more projects at no cost from the Internet. Pattern books, magazines and library books are other great sources for quick and easy sewing projects.


Related Articles
Sewing Fleece With Success!
Essential Sewing Techniques for Successful Sewing Projects
Recycle Old Clothes
Barbie Doll Clothes Patterns
Altering Clothing
Doo Rag Sewing Pattern
DIY Fashion
Recycle Blue Jeans
Return to top of this Simple Sewing Projects Page
Return to the Creativesewingtips.com Home Page