Tips on Sewing Fleece With Success!
As the weather turns colder, here are some tips on sewing fleece that will make it easy to work with this cozy and popular fabric. Fleece is a favorite because of its ability to bring warmth, comfort and durable nature while retaining its insulating properties.
If you've never sewn fleece before, or are looking for some suggestions, here are some tips that will make your next project easy and enjoyable.


Qualities of Fleece
Fleece is a term still used today to refer to a sheep's coat of wool. When it comes to material, fleece is a synthetic product created from acrylic or polyester fabric, then brushed to have a soft pile. Some fleece fabric is brushed on one side only or has a sheared look.
Fleece, like most other fabrics, can range in quality and some fleece may pill or stretch. When you are shopping for fleece fabric by the yard buy top quality fleece, if possible. Look for material that has fibers which stand up well from the knit core.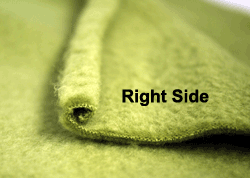 Pull lightly along the selvage and watch which way it rolls. That indicates the right side of your fleece material. Once you've determined what type of fleece you will need, buying your fabric online is another great option!


Cutting Fleece
Cutting out a pattern can be tricky and these tips on sewing fleece can help you avoid wasting material. If your fleece material is one-sided, the pattern should be laid on the wrong side.
Be sure to use the right cutter, especially for thick fleece. A razor blade, rotary cutter or Exacto knife works well. When cutting fleece, you'll quickly find that it can generate lots of lint, so having a small vacuum cleaner at arm's reach can make it easy to pickup as you go.

Olfa Deluxe Rotary Cutter (60mm)
Needles
A well-selected needle can make a fleece-sewing project go smoothly. The weight of the fabric determines the proper needle size. Most fleece fabrics can be sewn with a Universal 90/14 or Ball 80/12 needle.
Keep a good supply of needles on hand, so you'll always start each project with a new, sharp needle. A needle that's worn will develop burrs that can damage your fabric. Fleece can dull a needle quickly, so switching to a new needle halfway into the project will avoid this problem.
If your thread is shredding or you notice the machine is not stitching evenly, the needle size may be the cause.


Sewing Techniques
Some additional tips on sewing fleece include stitch length. Use a stitch that's about as long as a basting stitch and keep the stitch straight or a narrow zigzag. Fleece can be bulky and difficult to maneuver, so try pressing down on the fabric as it feeds into the presser foot by using a turner or seam ripper.
Got an old toothbrush? Use it to free up any pile that becomes stuck in the seam during sewing. Go slow when stitching curved armholes or necklines to avoid stretching the fleece.
If adding a zipper, a neat trick is to first apply a fusible interfacing before stitching in the zipper. Keep the heat low when ironing the interfacing to avoid burning the fleece.
Fleece is a lovely and sensual fabric that has many uses. Try some of these tips on sewing fleece and you'll find it a pleasure to work with this versatile and popular cloth.


Related Articles
Simple Sewing Projects For Everyone
Essential Sewing Techniques for Successful Sewing Projects
Return to top of this Tips On Sewing Fleece page
Return to CreativeSewingTips.com Home Page