Sewing Machine Accessories That Will Make Your Sewing Projects a Success

Sewing machine accessories can make sewing even more enjoyable and productive. You've heard the phrase "the right tool for the job".
This is especially true of sewing. Whether the tool is for the sewing machine, or to make your sewing go more smoothly, accessories can make all the difference.



Sewing Machine Tables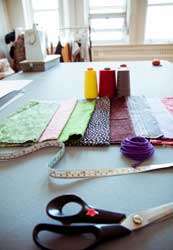 Sewing machine accessories make your sewing machine easier to use. Probably the most important is a sewing machine table or cabinet.
Nothing is worse than trying to set up your sewing machine on the kitchen table and having to move everything for every meal.
A sewing machine table eliminates that problem. Consider these points when shopping for a sewing machine table or cabinet:


For most adults this table needs to be 29 inches from the floor to the table's surface. Decide what a comfortable height is for you.


The second consideration is space. How much space will you need for the pattern, fabric, and your tools?


How much space in your room can you give up to your sewing table? Some sewing machine tables or cabinets have drop leaves or are designed to be collapsible. This allows the table to fold up when you don't need the space.


The last consideration is mobility. If you'll need to move your table, make sure that you have enough wheel support.


Tables and cabinets provide you with options including ironing space, holders for patterns, organizers for thread spool holders, and locking doors. You may even be able to choose your color.


Small Sewing Machine Accessories
A few other small accessories are necessary for any sewing machine.
Specialty presser foot - zipper, buttonhole, ruffle, etc


Extra Bobbins – having a bunch of bobbins is a time and thread-saver.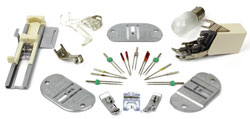 Bobbin Box – you need to have somewhere to store all those extra bobbins.


Machine oil


Lint brush


Lightbulb – nothing worse that being in the middle of a sewing project and having the bulb burn out.


Sewing machine screwdriver set


Extra needles


Other Sewing Accessories
Although not necessarily considered sewing machine accessories, mannequins are a huge help if you sew clothes. There are three types of mannequins.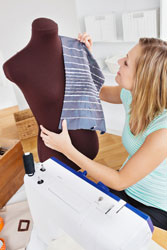 The first is an adjustable rolling dial dress form. These can be set to your exact measurements. However, because they are made of hard plastic, pinning to them is difficult.


The second type is a nonadjustable dress form. These are usually made of foam and this makes pinning to them easy. However, if you sew for several people you will need one to fit each person.


The third type is a duct tape or paper mache dress form, made to your exact measurements.



Other sewing accessories include storage for fabric, thread and bobbins. Some are stand-alone cabinets or chests, while others can be mounted on the wall or side of the sewing cabinet.
They have movable partitions, drawers and pegboard walls where you can mount any number of holders for spools, scissors, measuring tapes and other sewing accessories.
With a few more tools, sewing machine accessories, sewing aids and storage, you may find you are doing more sewing that you ever have in the past.


Related Articles
Sewing Machine Tables - Find One That Works For You!
Go to top of this Sewing Machine Accessories Page

Return to the CreativeSewingTips.com Home Page