Tips for Buying Fabrics Online
If you are getting ready to sew, then these tips on buying fabrics online will help you. All patterns include fabric recommendations, but that doesn't mean you have to use the specific clothing fabrics suggested.
What Type of Fabric Do You Need?
Often, it's enough to use the same type of fabric, so that you get the right effect. Educating yourself about some of the different fabric types is the first step.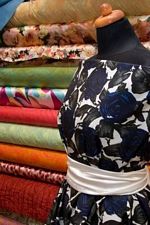 Some of the main fabric types include cotton, linen , silk and wool , as well as man made fabrics such as acrylic, nylon, polyester, rayon and spandex. Specialty fabrics such as batik and velvet are popular choices for those special occasions. Learn about tips for sewing with velvet fabric and caring for your velvet creations .
You can replace all of these with materials of the same type. For example, if your pattern calls for cotton, then corduroy and flannel may also work well.
Linen can be replaced by other fabrics with similar textures and properties.
The same considerations also apply to upholstery fabrics or fabrics for quilting and crafts. A fleecy acrylic can be replaced by a double knit that is equally wrinkle-resistant.
Look online for a discussion of types of fabrics as a starting point.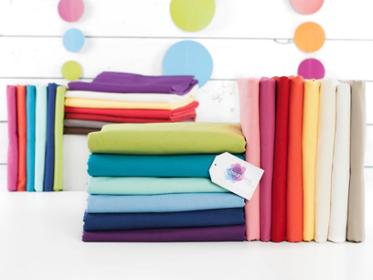 Why Buy Fabric Online?
Checking out online fabric stores  is a good way to source specialist materials such as designer fabrics or organic fabric . These days, the organic label does not just apply to food but to natural fabrics such as cotton, wool, silk and hemp which meet the regulations on processing, production, dyeing and handling without toxic chemicals and pesticides.
Organic cotton is one of the most popular organic materials, but when buying fabrics online, check whether there are any special requirements for caring for these fabrics.
Benefits
One advantage of buying fabrics online is the savings you can make. This is the same as saving on products such as books and DVDs because the retailer doesn't have to build the cost of a shop into the price you pay.
There is a wide range of discount and wholesale fabric online available for sale – you are only limited by what is suitable for your pattern.
Before you buy, check the pattern to see exactly how much fabric you will need and whether you will require any notions or accessories. You may be able to purchase these online at the same time.


Related Articles
Buying Fabric Online - Tips For A Successful Shopping Experience!
Discover Online Fabric Stores
Tips On Buying Fleece Fabric By The Yard
Cloth Diaper Fabric - What Are Your Best Choices?
Oilcloth Fabric - Creative Ways To Use This Durable Fabric
Return to the top of this Buying Fabrics Online page
Go to creativesewingtips.com home page