Choosing Your Sewing Supplies
If you are going to make a success of sewing, then getting the right sewing supplies is essential. We often think of sewing as requiring a needle and thread, but there's much more to sewing than these simple tools.
Choosing Patterns
Whether you are sewing an item of clothing or making a cushion to decorate your living room, you may need to start with patterns for the item you want to make. There's a lot of choice, so it could take a while to select the perfect pattern . Your next step might be to cut the pattern.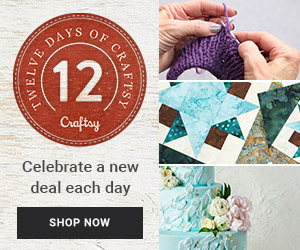 Regardless of the cutting surface you are using you'll need straight pins to attach your pattern to the material. You'll find that magnetic pin dishes are useful for keeping pins under control.

Cutting... Use the Right Tools
Next, it's time to cut your material. Scissors and cutting tools come in all shapes and sizes.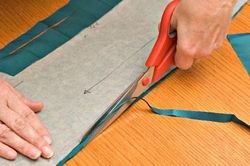 Find out if you need a special cutting tool or scissors with a particular kind of edge. Left handed scissors are also available for those who need them. Use tape measures and rulers so that you can be sure to cut the pattern correctly.
Other Useful Supplies
Most patterns offer you a few options for sizing so that you end up with a garment that fits perfectly. Marking tools can help you to identify where pieces of material should fit together, and this will help to make your sewing go more smoothly.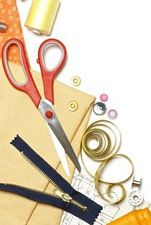 Other key sewing tools include interfacing, seam rippers and many types of fasteners.
Depending on the item you are sewing, you might need bindings, elastic, tapes, zippers, Velcro or adhesives.  Read about The Merits of Glue and Sewing to discover how fabric glue can help you in your sewing project successes!
If you are running a sewing business, you can also include labels so everyone will know where the item came from.
Custom clothing labels are the perfect way to personalize your handmade gift or clothing item
Storing Your Supplies
Finally, it's a good idea to purchase storage for your sewing supplies as small items such as buttons, fasteners and thimbles tend to disappear.
A beautiful sewing basket might be your first step in organizing basic sewing supplies.

Take some advice from an experienced sewer on the supplies you'll need and the best way to store them. Then you can be confident that you are ready to get started with your sewing projects.


Related Articles
Your Own Sewing Labels - A Creative Twist
Sew In Labels - Personalize Your Creations
Sewing Baskets - Organize Yourself And Sew More Efficiently!
How And Where To Buy Your Perfect Sewing Labels
Choosing Your Perfect Thread
Choosing The Best Sewing Scissors and Shears for Your Needs
Return to the top of this Sewing Supplies page

Go to Creativesewingtips.com Home page