Your Own Sewing Labels - A Creative Twist
Designing your own sewing labels for items you sew is a great idea. Labels say 'this is your own unique creation'.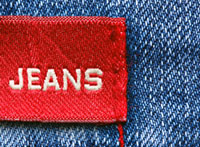 Have some fun with your labels by adding your own creative twist to designing them - try thinking of a logo that you can use that will be uniquely yours.
Choose wisely as you will probably use it for a long time. Just make sure you are not infringing on any of the famous designers. Often people will use a favorite animal or a letter or combination of letters for their logo.

There are many companies that will make the logo to your specifications. You'll have to decide what label is best for you as are so many types available - fabric choices include Taffeta, Twill, Satin, and Damask for your woven labels.
You could also decide to have your labels printed. Keep in mind as you decide what you want that labels can be sewn on, put on with an adhesive that is resistant to washing and drying, or ironed directly onto your item.

Here are some ideas on how and where to buy your perfect labels ...


Have Labels Made As A Gift
This is a great idea if you know someone who sews. Have labels created with their name on it - they will be able to use these on all of their handmade creations or gifts.
They'll appreciate such a thoughtful gift and will realize how much others admire their sewing.
Labeling the clothing and personal items of a child who goes to school or to camp is also a smart idea . This will help your children from mixing up their items with those of the other kids.



Sewing Labels and Your Business
If you do much sewing as a business, you will want sewing labels on your items. Reflect the professional job you have done by adding your own label. The advertising you get from using the labels will help your business.
You may even be able to start your own business making labels because they just have so many uses. As you take orders for the labels, you'll be customizing them so you do not wind up with extras that you cannot sell. Make up a few samples to get going.


Do you have a craft business?
If there are items that you make to sell, you can order labels with your name and logo on them. Many people put their personally crafted items in consignment shops or sell them at flea markets or online. Your labeled work will look more professional and everyone will know who is responsible for making that beautiful item.



Related Articles
Buying Your Own Personalized Sewing Labels
Choosing Your Sewing Supplies
Essential Sewing Techniques for Successful Sewing Projects
Return to top of This Sewing Labels page

Go To CreativeSewingTips.com Home Page