Sewing Accessories for the Perfect Sewing Room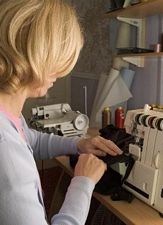 Getting the right sewing accessories will make sewing a pleasure.
For most people, getting everything out and putting it away again every time you sew can be a real chore, so it makes sense to create a dedicated sewing room if you can.
It makes sense to plan the layout of the room in advance so that you make it a comfortable workspace where everything you need is easily accessible.
Setting Up Your Sewing Room
There are several areas to think about including basic furniture items, your sewing machine, lighting and storage. Setting up your sewing room can be fun!  Check out this fabulous clock I received for Christmas - so much fun!!
Here are some of the issues to consider when thinking about setting up your sewing room:

Furniture
When it comes to sewing room setup, there are a few essential pieces of furniture. You will need a sewing table, which will be the centrepiece of your sewing room. Put this in the area with the best light and choose additional lights so you can see clearly at all times.
There are several types of sewing tables , from relatively plain models to those which include storage for your other sewing supplies.
There are many sources of accessories online which will also give advice on sewing machines, machine accessories and their benefits and drawbacks.
Make sure you find a comfortable sewing chair to sit in. This may also include some storage – you can never have too much of this in a sewing room!
If you have the space a cutting table is another priority.
Consider sewing mannequins for your sewing room,allowing you to create perfectly fitted clothing.


Sewing Notions Workshop: Solutions For Savvy Sewing
Ironing
An ironing board or ironing surface is also essential. You'll need this at regular intervals during the sewing process. Depending on your space you could choose a stand-alone ironing board or a pull down model.
Of course, you will need an iron to go with this, so look online for advice on what to look for in an iron. There are lots of reviews and recommendations which will help you to choose.

Accessories for Storage
Finally, if you are working on a number of items at once, then it's essential to have good storage in your sewing room.
Sewing baskets , totes, and boxes are some of the most useful sewing accessories you can buy so that you can put away the items you don't need at a given moment. These are just a few examples of essentials you might wish to have in your ideal sewing room.


Related Articles
Sewing Machine Tables - Find One That Works For You!
Tips For Choosing Your Sewing Scissors and Shears
Return to the top of this Sewing Accessories page
Go to Creativesewingtips.com Home Page