Sewing Machine Reviews
A useful tool before you make a purchase, sewing machine reviews provide information essential to your decision.
Reviews take a variety of different forms; some assessments, such as those located on consumer watch organizations or websites dedicated to sewing machines, aim to give you an objective perspective, while others reflect a more personal tone, such as customer comments.
What Makes an Effective Review?
Choosing amongst the hundreds of models available depends on your experience, budget and functions you require to complete your projects. The most effective sewing machine reviews cover essential features and give insight into brand, quality, price and availability.
Whether you favor user commentary, evaluations based on a set of pre-determined criteria or a combination is a matter of preference. Also keep in mind that the "best" machine on the market may not be best suited to your needs.
Function
Sewing machine designs can be categorized into functions such as:
Utility – concentrates on the basics such as straight, zigzag, blind hems, overcast and stretch stitches; narrow your choices to those with free-arm capability
Construction – buttonhole styles and zippers
Embroidery – new models often employ computer technology that allows you to create and/or save your own creations; models made with an attachable hoop or drop feed dog allow free-motion embroidery; extra designs are often offered on company websites, such as those accessible to owners of a Husquavarna Sewing Machine
Quilting – most contain a large work space, long-arm, decorative stitches and, most important, a walking pressure foot such as the one on the notable Performance 2058 Pfaff Sewing Machine
Serger Sewing Machine – overlock machine used for seams
All-purpose – handles utility, embroidery and small quilting jobs with a variety of stitch options; make sure you know of possible limits regarding types of materials
Basic – often mechanical, affordable models like a White Sewing Machine; also an ideal choice beginners or light sewers who don't require lots of options.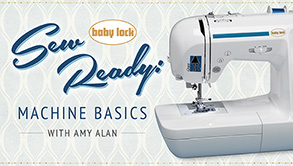 Machine Savvy: Tips for Creative Sewing (FREE mini-class w/ Linda McGehee)
Search reviews that discuss the quality, durability and limitations of the specific functions you require. For example, work that focuses on lace and gown construction often requires delicate heirloom stitching; even if a "work-horse" machine lists this feature, it may not handle thin material as you expect.

Reviews usually cover additional qualities such as precision, speed, variety and ease of switching between stitches, ergonomic design, easily accessed controls as well as work area lighting.
Where to Start?


Especially if you are new to the world of sewing machines, begin your search with well-known brands – look at different models of a Singer Sewing Machine and Brother Sewing Machine. The advantage of starting with these brands is the number of sewing machine reviews accessible. Singer and Brother both produce a wide-range of models, which provides insight into the types of functions available, and because they are so well known, have more reviews – positive and negative.
Don't stop at the larger manufacturers – a smaller company of high repute may produce the model most appropriate for you. Many quality choices such as the all-purpose DC1050 Janome Sewing Machine or a Viking Sewing Machine, exist; a number of experienced sewers rate a Bernina Sewing Machine, produced by a small family run company, much higher than a Singer and the variety of Janome Sewing Machine models matches Brother.

A smaller, lesser known company can still accommodate a variety of features; sewing, embroidery, quilting or overlock are options for an Elna Sewing Machine – Elna, a small lesser known Swiss company that's manufactured products since 1940.
Reviews sometimes reveal interesting information such as the history of Singer-clones like a Mercury Sewing Machine. Other times, you might discover a name brand, like Janome, is the manufacturer of a lower cost item such as the Necchi 6015 Sewing Machine. Similarly, a lack of information might make you think twice about purchasing a Beldray Sewing Machine.

Focusing on Specifics
Focusing on a particular feature when searching sewing machine reviews reveals the brands and models most suited for your needs. Features include:
Speed – the TL-98Q Juki Sewing Machine is capable of 1,500 stitches per minute
Embroidery – better known as Viking, purchase of Husquavarna Sewing Machine allows you access to a wide variety of embroidery options
Mini Sewing Machine – Janome and Singer are popular brands than make small, portable units
Computerized – with more features than mechanical models, computerized models, such as those found an a Bernina Sewing Machine, have hundreds of options including stitches, buttonhole styles as well as the ability to save to memory cards and modify designs through you computer
Children's Sewing Machine – look for a basic, low-cost starter model like a Sear's Kenmore Sewing Machine
Type a desired feature or intended use when searching sewing machine reviews to yield makes/models that meet your criteria.
Research and Buy
Whether an inexpensive starter model, a secondary machine for portability or a high-tech computerized model with a multitude of features, sewing machine reviews can help you determine the best brand and model for you. Search multiple sites, and read independent and consumer reviews – the consistency in descriptions often provide an accurate picture of the quality, durability and features of a sewing machine.
Reviews by Sewing Machine Name
Go to Top of Sewing Machine Reviews Page

Return to CreativSewingTips.com Home Page