Oilcloth Fabric
Oilcloth is manufactured differently today, but you can make your own traditional oilcloth at home. It has many different uses and advantages, indoors and out.
Oilcloth was originally referred to as "floorcloth" because it was an inexpensive, easy to maintain and durable substitute or covering to wood flooring. Linoleum is today's equivalent to floorcloth. Early on, fisherman and sailors also found it ideal for sails.
Oilcloth was first made from canvas treated with oil or, at times, alternative-waterproofing materials such as waxes or clays.
Today, manufacturers use vinyl or plastic (sometimes a combination of both) on a mesh base made of cotton or polyester.


Properties
Oilcloth fabric is water and stain resistant. The density of the material makes it strong and durable and the vinyl or plastic makes it easy to clean with soap and warm water. Oilcloth should be rolled up for storage to keep it wrinkle free.
Oilcloth was historically made in bright colors, patterns and designs, but you can find more conservative styles today. Sold in rolls, oilcloth will not fray when you cut the fabric to size.
Try browsing through oilcloth fabric selections online as this an easy way to get an idea of just how many prints are available today.
Read my tips for buying fabric online and have a great online shopping experience!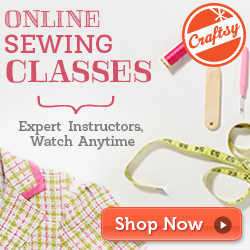 Applications
Oilcloth is versatile and can be used for many simple sewing projects . Use it in the kitchen for placemats and tablecloths; in a laundry or pantry, it can cover shelving or line the inside of drawers. It is also practical for a baby's changing table, high chair, booster cover or a diaper bag.
Outdoor uses include grill covers, picnic table liners, outdoor pillows, raincoats, tents and waterproof bags.
Why not try making these attractive little lunch bags!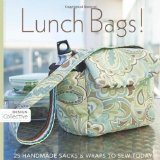 In addition, a creative and crafty use for oilcloth includes an oilcloth message board to hang in a kitchen, office or family room.
Why not make oilcloth coasters to use up leftover pieces of fabric from a finished project. You could also stretch oilcloth over a frame as a piece of artwork.


Oilcloth's Advantages and Disadvantages
The advantages of oilcloth fabric far outnumber its disadvantages.


Advantages include:

Easy to maintain, care for and clean

Strong, resilient material that will endure a long time

Resistant to water and many potential stains

Antibacterial

Edges will not ravel or fray
The disadvantages are:

The fabric will fade if exposed to direct sunlight

Vinyl contains PVCs
PVCs are a nondegradable part of plastic products. High levels of exposure can be unsafe for a child who may place the fabric in his or her mouth.
This material is not suitable for recycling. It can be considered an eco-friendly choice, however, if it will be used for a long time because it doesn't need to be cleaned with much water or chemicals.


Making YourOwn Oilcloth
If the plastic or vinyl is a concern, you can make oilcloth. Materials needed are heavy cotton duck or canvas, wooden stretcher frame, staple gun, linseed oil, a paintbrush and oil paints or dyes to create a design. From here, follow these steps:


Stretch the fabric over frame

Create a design with the oil paints or dyes

Cover the entire "good side" of the fabric with linseed oil

After the oils dry, repeat previous two steps

Keep doing this until you reach desired design and density

When dry, remove from frame
From here, use your oilcloth any way you wish. However, if you want both sides to be waterproof, you will need to coat the entire piece of material in linseed oil, not just the "good side."


Related Articles
Buying Fabric Online - Tips For A Successful Shopping Experience!
Go to top of this Oilcloth Fabric Page

Return to the CreativeSewingTips.com Home Page