Sewing Projects For Kids

Finding sewing projects for kids is easy. These projects will provide hours of fun for children of all ages.
You'll find there are simple projects that won't involve buying patterns or using a sewing machine.
You'll be able to complete these projects quickly. Try saving money and helping the environment by creating your projects from recycled clothing!

Recycled Clothing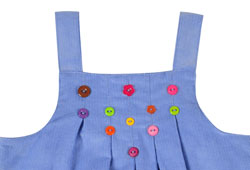 Turn an old pair of denim jeans into a handbag, hanging pocket storage unit, toy bags or a backpack.

Convert old bathrobes into throw pillows, floor rugs and pot holders.

Try using shirt buttons as decorations on your clothing. This is a great way to learn how to sew buttons !

Pet toys and accessories are also easy-to-make projects that can be made from recycled clothing.

Sewing Projects for Beginners

Children as young as two can learn to sew if their parents choose the right materials for their age. Plastic needles and felt allow even young children to learn how to sew. Create many projects including pot holders, coasters and coupon pouches in less than 30 minutes.
Preschool children can make fleece quilts using large fabric blocks that they can decorate with fabric paint. They can then stitch these squares together using plastic needles and yarn.
Children five to seven year olds may be able to use metal needles and thread to sew basic sewing stitches .
An older child could be ready to use a child's sewing machine to make simple sewing projects for kids including skirts, vests, pajamas and aprons.

Intermediate Sewing Projects For Kids

Once you've mastered the sewing basics , try tackling more complicated projects, including costumes and holiday decorations. Multiple piece patterns are available from pattern companies for projects needing less than two hours.
Simplicity patterns' It's So Easy pattern line can be sewn by children. Simplicity sewing patterns include costumes, crafts and apparel.
McCall's offers Easy Stitch 'N Save patterns plus a large collection of costume and craft patterns that can be sewn by kids.
Butterick's See and Sew patterns include doll clothes, bags, pet accessories and clothing.

Kid Designed Projects

Transform children's artwork into stuffed animals, quilts and personalized ponchos. With an adult's help, transfer a child's drawings to fabric and cut them out. Also try tracing these drawings onto large fabric squares using fabric paint to create a personalized quilt, hat or scarf.
By using non-raveling material like felt or fleece, your child's drawing won't need hemming to keep it from coming apart. Scarves, pillows, hats and toys are just a few of the ideas that can be created using a child's artwork as the template.
Using free sewing patterns , online or store-bought patterns and patterns designed at home you can introduce simple sewing projects to kids inexpensively.
Kids developing skills, learning a new hobby and being able to make fun creations at home is what sewing is all about.

Related Articles

Go to the top of this Sewing Projects For Kids Page
Go back to the Simple Sewing Projects For Everyone! Page
Return to the CreativeSewingTips.com Home Page