Sewing Patterns For Dogs
Sew Up All The Stylish Clothing and Accessories Any Dog Could Need!
We need sewing patterns for dogs for many reasons. Sometimes our pampered pups and working canines need specialized items. Dogs may need a raincoat for their daily walks and a search and rescue canine may need a coat to protect them from harm.

Sometimes we want to sew for them just because it's fun to dress them up!
Small Dogs


Small dogs have it made when looking for sewing patterns for dogs as many cute and practical items are easier to create for a dog weighing less than ten pounds. Small shorthaired dogs can easily become chilled when going outside in nasty or wintery weather.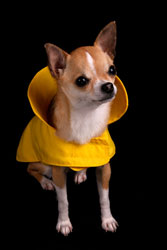 Even larger dogs with short hair will get cold quickly when outside in the winter if they don't have a sweater, jacket or doggy coat to keep them warm.

Dogs living in our homes are considered family members. In the 1950's many pampered pooches wore tailor-made clothing as a sign of their status. Some of these sewing patterns are available today.
Large Dogs
Today more large dogs are employed than any other time in history. Shepherd's used to rely on dogs to help protect sheep and many dogs are still used as sheep and goat herders. Careers for large dogs now include more opportunities like police and guide animals.
Service dogs provide help for wheelchair bound individuals, companionship for seniors in nursing homes, volunteers at hospice facilities and hospitals as well as helping autistic and developmentally challenged children and adults.
These working dogs may require specialized items that need to be tailored made so that their owners can easily help them to get dressed for rain, snow or cold weather. Finding sewing patterns for dogs, even large ones, won't be difficult.


Patterns For Dogs
Simplicity offers several styles of dog coats for large size dogs.


Butterick recently discontinued a number of their dog patterns, but still offers three See & Sew dog coat patterns. Butterick's out-of-print patterns may still be available through eBay or in some fabric shops.


McCall's has a large selection of patterns for dogs, including coats, sweaters, accessories such as hats and ties, and many other gift ideas to sew up for dogs. There are also fun patterns for leg warmers, sleeping bags, blankets and scarves.


Specialty Patterns
Finding specialty patterns for dogs is easy using an online search engine. Sewing up specialty patterns for coats, hats, booties and toys can be fun.

Heavens to Betsy's Vintage Pattern Shop offers many vintage and costume patterns for both large and small dogs.

Sew Thankful has many sewing patterns for dogs including beds, outfits, beds, toys, stockings and carriers.
Working dogs including Search and Rescue dog require special footwear to protect their paw pads from broken glass, chemicals and debris. By using a specialty dog bootie pattern, their human partners can create footwear to protect their feet.
Free Patterns
It is easy to find free sewing patterns for dogs, an internet connection and a computer are all you need. There are many free dog pattern websites  that offer collars, leashes, toys, ponchos and footwear designs and these patterns can be downloaded and printed out for free.
If you love working with fabric, having new sewing patterns for dogs will provide many projects for your favorite pup.


Related Articles
Free Sewing Patterns - There's a Perfect Pattern for Your Special Project
Go to the top of this Sewing Patterns For Dogs Page