Learn How To Sew Leather with Professional Results!
Leather is a fun material choice and it's not hard to learn how to sew leather. Make this rich and versatile product into wallets, belts, shirts, pants and coats, as well as gloves, hats and moccasins.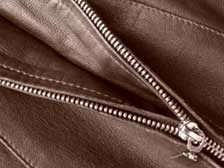 Feeling intimidated by the idea of sewing leather, or have you struggled with it in the past? Keep in mind your basic sewing techniques.
Here are some additional tips to make your leather project easy and rewarding.
Needle size
Try sewing leather with a standard sewing machine. This is a good choice for most projects. When learning how to sew leather on a machine, keep a few points in mind. Select the right needle. Although a regular needle will work, a leather sewing needle is specially designed to cut into the leather as it pierces.
You may wish to experiment with needle sizes of 11, 14 or 16 to see which works best. If you find the thread keeps breaking or your stitches begin to skip, switch to a different size needle. Review this Needle Buying Guide for further information on types of needles available for your machine.
For sewing by hand, use a leather needle, which is an L-shaped thicker needle with a chiseled head that's sharp.
Stitch Size
As the needle goes through the leather, it cuts it. As a result of the cutting, a small stitch is not a good choice because the leather could rip due to the many small, close cuts of the needle.

Since leather comes in many thicknesses, the easiest way to determine the right stitch size is to do a few practice runs on a piece of scrap leather. Vary your stitch sizes then pull on the leather to see how it responds. Most domestic machines should be set at around 7-12 stitches per inch.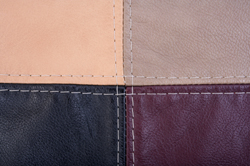 When hand stitching, knot the thread at the start and end of each series of stitches. Resist the urge to backstitch. Backstitching can weaken leather and undo all your hard work. Also keep in mind that in the case of alterations, seams can be taken in but not let out. The original stitching holes made by the needle are permanent and will show.

Sewing leather with a domestic machine can be simple if you use the right machine.  A machine doesn't need to be fancy, in fact the simpler the better, in the case of sewing leather!  
SINGER 4423 Heavy Duty Extra-High Sewing Speed Sewing Machine 
You certainly don't need to pay for a fancy computerized machine to get the job done.  This Singer machine has been tried and tested - check out the over 2000 reviews and 4.3 out of 5 star rating!

Thread
Always select a strong and durable thread for your leather project. A good choice is a Rayon thread as it is less likely to shred or break, as cotton threads can. Another tip on how to sew leather is to try using embroidery or quilting thread.
You can preview the durability of your thread by putting it through a stress test before sewing. Unwind about a foot of thread and pull it taught. A thread that breaks under this tension will most likely break when used to sew leather.
When hand sewing leather use a heavy thread that has a waxed surface. This helps the thread move through the leather while sewing.

Extra Tips
A few extra tips from experienced leather sewers include using baby power on the work surface of the leather to help it slide smoothly through the machine. Use just a little and be sure to blow away any excess from the bobbin.
Another trick is to try using a touch of glue as basting during hand-sewn projects. Let it dry before continuing with sewing. This helps keep the leather pieces steady as you work.
Choosing a Teflon coated presser foot when sewing leather is your best choice.
Also be aware that the feed dogs can mark leather. It's a good idea to place paper or tear-away stabilizer between the feed dogs and your leather when stitching.

These are just a few suggestions for those looking for information on how to sew leather. Sewing leather can be fun and rewarding so try it as your next sewing project.
Related Articles
Return to top of this How To Sew Leather Page
Return to Essential Sewing Techniques Page
Return to CreativeSewingTips.com Home Page