Commercial Sewing Machines - Do You Need These Fast, Durable Machines?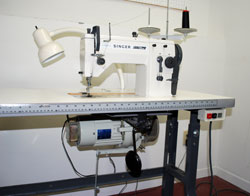 There are many uses for commercial sewing machines. In fact, large sewing projects like furniture cushions, upholstery, leather, and sewing multiple layers of fabric need a larger, stronger sewing machine. I use my commercial machine for almost all my sewing projects.

Since I've made the switch to industrial, it's hard to go back to a domestic machine. They seem so slow!


Size
A commercial sewing machine is much larger and heavier than a regular sewing machine. Commercial machines are built into a sewing table. The large motor, drive belt, and operational controls sit under the table with the needle arm and pressure feet on top.
The most notable difference between a commercial and regular sewing machine is the size of the drive belt. Regular sewing machines have a small drive belt. Commercial machines use a drive belt that resembles a tractor or small car belt. To pierce through many thick layers of cloth, commercial machine needs to be strong.
The all-metal construction coupled with the large, thick drive belt provides the power needed for this type of sewing.


Needles and Thread
Industrial sewing machine needles are bigger, thicker and stronger than home sewing machine needles. Each project needs a specific needle.
Attaching the head of a stuffed animal to its body is a thick project, but the fabric used may be lightweight. A commercial needle for this job would be long and thin.
Sewing a canvas boat cover would need a thicker stronger needle with a larger eye. The thread used to sew the boat cover needs to be thick, almost like string.


Fabric Feed
Guiding fabric under the needle requires a pressure foot and feed plate. This assembly is called the feed dog.
A home sewing machine uses a single partially split foot to help the angle shaped bottom plate to pull the fabric under the needle.
Commercial machines use a two-piece foot. When fabric is fed into a commercial machine, these two elements walk the fabric under the needle. Industrial sewing machines also have a special lever under the tabletop that allows the walking foot to be raised and lowered. This unique design helps keep the proper tension when sewing curves or corners.
The special design of the walking foot allows zippers to be sewn without pinning. In fact, many tasks don't need basting or pinning before sewing on a commercial machine.


Purchasing A Commercial Machine
Industrial sized sewing machines are expensive, but it's possible to buy a used or refurbished commercial sewing machine at a fraction of the cost.
Before buying a commercial machine find someone who has one. Sew a bit with the larger machine to determine if you really need one.
Once you make the decision start looking in the newspaper ads for sales of commercial sewing machines. Scratches and signs of wear shouldn't affect the machine's ability to sew.
Many manufacturers also have refurbished machines for sale. The Brother, Juki, Pfaff and Singer sewing machine companies feature commercial-sized refurbished sewing machines in their product lines.
I use my machine for making drapery, bedding, piecework-type projects, sewing large projects, dressmaking and tailoring. Anytime you're working with multiple layers of fabric it's great to use commercial sewing machines.



Related Articles
How to Compare Sewing Machines Before Buying
Choose The Best Sewing Machine For You!
Buying Used Sewing Machines - Tips For Choosing Your Perfect Machine
Go to top of this Commercial Sewing Machines Page

Return to the CreativeSewingTips.com Home Page