Buying Used Sewing Machines - Tips For Choosing Your Perfect Machine

The task of buying used sewing machines can be a daunting one regardless of whether you are just getting into sewing or are a pro.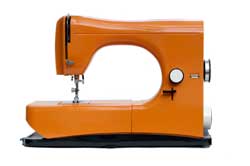 There are dozens of brands out there coming from different countries all over the world, and everyone you talk to has a different opinion on which machines are best.
Fortunately, there are a few points sewing machine connoisseurs all agree on.


Why Is A Used Machine Better Than A New Inexpensive Machine ?
If you are looking for a sewing machine that will last you a lifetime, you do not want to start by looking at those cheap machines in your local department store.

In fact, unless you have $1000 and up to spend on the highest quality sewing machines, you don't even want to be looking at anything new. Otherwise, you are much better off buying an excellent quality used machine.

When on the hunt for a good machine, there are a few basic guidelines to keep in mind. First off, the older it is, odds are the better it is (up to a certain point). I still have my Grandmother's Featherweight Singer and know I can still count on it to produce a perfect straightstitch. I learned to sew on a treadle sewing machine (which I still own) before Mum let me use an electric one.





Is An Older Used Sewing Machine The Best Buy?
Of course, the machines I've been mentioning above are a bit too old to consider as a choice when buying a used machine for today's needs.
They simply don't offer some of the basic functions we take for granted today. They do however, show how a quality machine can last for many years and still get the job done!

Modern sewing machines are mostly made of plastic, with flimsy gears and internal parts that are not designed to be repaired. You may want to try to find a machine that has as many metal parts as possible.
While it may not be as easy on your back, the heavier a machine, the more reliable it is.

If you keep an all-metal geared sewing machine properly oiled and maintained, it will silently and reliably sew through just about anything.
You just want to make sure that your used sewing machine is from the early 1980s or before. After that, you are going to have a harder time finding machines designed for repairing rather than replacing.



It's Best To Choose Your Used Sewing Machine From A Reliable Company
Good brands to keep an eye out for include Bernina, Viking, White, Husqvarna, Pfaff, Janome and sometimes Singer. Yes, that's right. The famous Singer brand is not always the best buy. Although once the gold standard in sewing machines, reviews these days vary widely from model to model - do some research.
Whenever you are considering buying an older machine, plug it in and see if it works! Most older models are repairable, but it is sometimes just not worth the money and effort to do so.


Related Articles

Buying a Used Sewing Machine - Important Points To Keep In Mind
Choose The Best Sewing Machine For You!
Commercial Sewing Machines - Do You Need These Fast, Durable Machines?
Antique Treadle Sewing Machines
How to Compare Sewing Machines Before Buying
Return to the top of this Buying Used Sewing Machines Page

Go to CreativeSewingSips.com Home Page