The Serger Sewing Machine - A True Timesaver
The ability to sew, trim and bind edges is what makes a serger sewing machine unique. Once, these specialized machines were only available to commercial garment makers. Technology has improved, however. Today you will find a serger (or overlock) sewing machine in many homes.

History
In the 1800's many of the nation's textile companies were located in Connecticut and New York.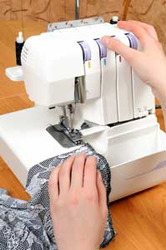 Working at a knitting mill in the late 1800's, J. Makens Merrow and his son Joseph designed and patented a sewing machine that could crochet the edges of the fabric. Binding the edges of seams prevented fabrics from unraveling.

One hundred years later, their design would lead to developing the modern Serger machine.



Improvements
The Juki Company improved the design of the serger sewing machine. A serger uses an overlock stitch to finish the edges of fabric, and to trim any extra fabric from the seam. This allows for sewing, finishing the edges and trimming off excess fabric in one pass. This is a real time saver.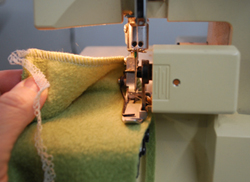 Before inventing the overlock sewing machine, many garments were sewn using French seams. French seams enclose the raw edges of the fabric inside a seam. This requires the seam to be sewn twice. As a result, only lightweight fabrics can be sewn with French seams. Heavier fabric is too thick to sew in this way. Finishing raw edges and creating smooth seams quickly are only possible using a serger machine.


Home Sergers
Advances in technology have produced small, lightweight and affordable serger machines. These smaller machines produce the same quality and finished edges of their larger industrial cousins. Some of the home serger machines are computerized, which allows the user to program the width, length and number of stitches per inch.
Serger machines resemble regular sewing machines except for the multiple spools of thread. At first glance, serger machines may look intimidating, but once you get the hang of it, threading a serger machine will be no more difficult than threading a standard sewing machine.
Improvements in their design allow today's serger machines to be more user-friendly. Using a serger sewing machine reduces the time, energy and effort it takes to sew a professional-looking item.


Serger Companies
There are many manufacturers, sizes and types of serger sewing machines available today. Kenmore offers a home serger machine at a reasonable price, and allows multiple weights of thread to be used. Baby Lock integrates serger machines with computerized software allowing their machines to multitask. Brother , Singer , Janome , Rex and Yamata all offer home-sized serger machines at a reasonable price. Prices for serger machines range from $200 to $2000 depending on the size, fabrics it will sew and the projects you work on. It's wise to compare sewing machines before you buy one.

Buying a serger machine can reduce the time needed to complete projects. Serged edges create that professional look once only available on garments produced commercially.


Related Articles

Return to top of the Serger Sewing Machine Page

Return to the CreativeSewingTips.com Home Page