Singer Sewing Machine Repair
Save Money or Start A Business
Learn to do your own Singer sewing machine repair for all minor and common problems. In fact, regardless of your brand of sewing machine you can learn to maintain and repair most problems on your own! All you need are a few basic tools already in your toolbox. You can save both time and money.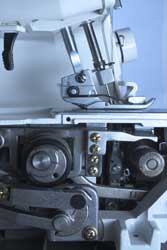 Complicated repairs, however, may need the help of a certified Singer repair person. Check your warranty – you may be covered if you own a newer machine. It may be necessary to return your machine to the Singer Company for repairs. You will find authorized dealers in your area through the Singer Website .



Sewing Machine Manuals – A great Starting Point
Before you sit down to sew, read the manual that came with your sewing machine. Each Singer machine has a manual. If you have misplaced your manual, Singer can provide you with either an eBook version or occasionally, a hard copy replacement.
For the company to provide the correct manual, it's necessary to have the model number and serial number of the machine before contacting the company.

Other online sources also provide sewing machine manuals in PDF format. Reading the manual may lessen the chances of needing any Singer sewing machine repair.



Maintaining Your Sewing Machine
Many times regular maintenance will allow you to avoid costly and time-consuming Singer sewing machine repair. Get into the habit of cleaning your Singer sewing machine after every use. Conduct a thorough cleaning regularly, ideally after every 10 hours of use to prevent some of the minor problems that could develop into larger issues.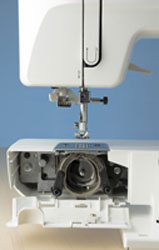 Unplug your machine before performing maintenance. Remove lint, dust and thread. You will need to remove the covers off the sides, top and hand wheel areas of your machine – refer to your manual for exact screw locations.

Perform oiling and check the drive belt for wear. Knowing where to place oil on your particular model is important since oiling a sewing machine in the wrong area could cause fabric to become stained. Use only a drop of oil – over oiling may cause lint buildup and damage machine parts.

Remove the plate and clean inside all accessible areas in the bobbin case area.

Vacuum inside your machine using an attachment that will reach into small areas. Clean the gears and reassemble your machine. Always test your machine on a scrap of fabric to check that oil isn't going to leak onto your fabric.



Keep your Machine Running Smoothly
Regular maintenance and cleaning after use will lower the cost of any Singer sewing machine repair. Changing needles often will limit wear on the pressure plate.

Winding bobbins correctly, and inserting them properly will help reduce wear on the bobbin housing.

Choose projects that are recommended for your Singer machine in order not to overwork the machine. This will help protect the needle shaft housing. Sewing multiple layers of thick canvas on a Singer machine designed for lightweight fabrics could result in damage to the machine.

Choose the right sized needle for your project to help keep your sewing machine running smoothly. Using a needle designed for sewing silk will not perform well when trying to sew denim - doing so may cause damage to the sewing machine and frustration for you!



Sewing Machine Restoration
The older a Singer sewing machine is, the easier it may be to restore. Singer treadle sewing machines can be restored to working condition using parts salvaged from other treadle machines. Parts can still be ordered from the Singer Company and through many other retail outlets. Unlike modern, computerized machines, the cost for restoring treadle machines is inexpensive.

The price of a bobbin case for a newer sewing machine can be more than $50 while finding a discarded Singer treadle sewing machine may allow you to replace a broken bobbin case free.

Restoration of older sewing machines will take time, but the reward is a working machine that will often cost less than a new sewing machine.

Learning how to conduct regular maintenance prevents the need for costly Singer sewing machine repair. Developing good maintenance habits will save money in the end.



Servicing Sewing Machines as a Business
Servicing Sewing machines is a great home based business idea. This business could be run part-time or full time - the choice would be yours. Sewing machine repair is easy to learn, although electronics and small appliance repair experience would be an asset.

Look for training that would allow you to gain experience on as many models and brands of sewing machines as possible. In your repair business you would, of course, not be dealing with only Singer sewing machine repair issues!

Also try looking for courses online, through distance learning programs and through books.

The California Academy of Sewing Machine Repair has such a course consisting of DVDs and manuals. Individual units cost about $50.00 while the complete course is available for about $1500.00.



What To Look For In a Sewing Machine Repair Course
Training on as many brands and models as possible
Tips on how to find customers
Billing procedures
How to schedule yourself
Customer service techniques
Working with your potential employees as the business grows
Realted Articles
The revolutionary Antique Treadle Sewing Machine
How to Compare Sewing Machines Before Buying
Return to top of this Singer Sewing Machine Repair Page

Return to CreativeSewingTips.com Home Page