Cloth Diaper Patterns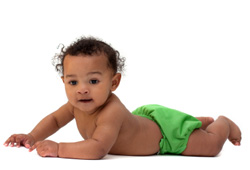 Cloth diaper patterns are available in many styles – choosing just one might be tricky! Consider trying out several styles of diapers.
Use different diaper fabrics in both contour and prefold shapes. Make diaper patterns from paper or print them out from online websites free.


Prefold Diapers
A Prefold diaper is a long rectangular piece of fabric that is folded a certain way, allowing it to be unfolded when washed.
Fifty years ago, prefolded diapers came in one size but now are available in multiple sizes including newborn, infant and toddler.
Prefold diapers need diaper pins to hold them in place and a diaper cover.



Diaper Covers
Rubber pants were popular in the 1950's, but they were difficult to wash and quickly became hard and cracked.
Soakers, made of absorbent wool , were used before this time.
Today diaper covers come in all types of fabrics, colors and designs with diaper cover patterns available for sewing, knitting or crocheting.



Contour Diapers
Prefold diapers can be challenging for new mothers especially if their own mothers or grandmothers are not available to show them how they are used.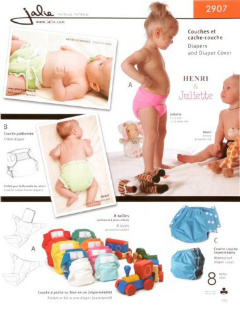 Contour diapers eliminate bunching and bulky fit and are shaped to fit around a baby's legs and tummy. These diapers are available in preemie, newborn, infant and toddler sizes and in all types of fabrics, colors and patterns.
Contour diapers may also use an inner strip of folded and sewn fabric to help hold moisture. Using Velcro, snaps and buttons to hold the contour diaper on your baby, you cut out the need for diaper pins.

Look for contour cloth diaper patterns in fabric stores. You can also find free patterns online.

Visit my favorite cloth diapering site for free cloth diaper patterns - you will find great patterns, valuable articles and beautiful diapering products.


Recycled Fabric
Thrift stores, old or stained clothing, and worn out bedding can provide many diapers at little or no cost.
Prefold diapers can take up to one yard each to make and contour diapers use almost as much. Two adult sized t-shirts will make one prefold diaper plus inner pads and two contour fit diapers.
Using recycled clothing and bedding allows you to create special personalized diapers for your baby. Sport teams shirts or old t-shirts from a memorable vacation can be turned into diapers that will bring back fond memories.


Yardage
Many of the free cloth diaper patterns provide yardage amounts for their diapers while other free patterns include estimations. The finished sizes of pre-fold diapers are:


11 x 14 inches for newborns.


The Regular size for babies between 10 and 15 pounds is 13 x 19 inches.


Toddler pre-fold diapers are usually 17 x 19 inches.
It's possible to reduce the cost of a single diaper and cover to less than a dollar after you factor in the thread, pins or alternate closures.

Finding a cloth diaper pattern using an Internet search will provide a wide range of choices. Discover how sewing diapers that are environmentally friendly, comfortable, and economic is quick and easy.

Preemie diapers are made smaller. Toddler diapers can be made larger. The same holds true when sewing contour diapers that are available in pattern sizes extra small, small, medium and large.

Diaper covers can usually be made using one-half the total length of fabric needed for the diaper. Buying fabric on sale will reduce your overall costs. So will using recycled materials.
Related Articles
Cloth Diaper Fabric - What Are Your Best Choices?
Tips on Sewing Fleece With Success!
Go to top of this Cloth Diaper Patterns Page

Return to the Free Sewing Patterns Page

Return to the CreativeSewingTips.com Home Page