Prom Dress Patterns - How To Choose The Perfect Style And Fabric


Elegant, sophisticated and chic prom dress patterns are available from many sewing pattern providers and from online pattern websites.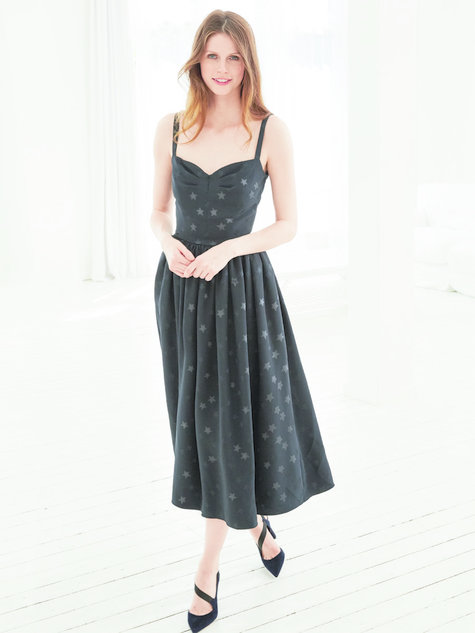 Burda's Midi Bustier Dress
Choosing the perfect prom dress and making it yourself allows you to personalize your dress in anyway you choose. 
Fabric Choices
Prom dress patterns will provide a list of suggested fabrics the dress can be made with, but you might want to consider these points as well.
Silky fabrics including chiffon, silk and some polyester slip easily. You may need to place a piece of paper between the fabric pieces before sewing.
Metallic fabrics are difficult for a regular sewing machine to sew but specialty needles are available that will punch through the stronger fibers.
Fabrics that have sequins, beads or other decorative items sewn or glued on may need to be sewn by hand.
You might want to consider looking at fabric choices online . There's endless possibilities once you start exploring what's available beyond your local fabric store.
Don't Use an Old Pattern
When considering sewing a prom dress, remember that this is not the time to try to save money by modifying a non-prom dress pattern.
Not all floor-length dress patterns are stylish when altered into a short hemmed dress and not all short dress patterns are full enough when extended to floor-length.
So make sure you invest in a pattern for formal or special occasion dresses.

Pattern Styles
Browse through these special occasion patterns to see many styles including halter top, strapless, single or double strap, as well as open sleeve, cap sleeve and cut out or bloused sleeved.
Short and floor length prom dress patterns as well as two-piece dress patterns are also available.

Now might be a good time to see what types of Wedding and Special Occasion Fabrics are available online.
By finding your perfect fabric, the perfect dress style for you might come to mind!
When looking at prom dresses, consider checking the costume section of the pattern book. You'll often find historic dress patterns that include all the important undergarments such as corsets, bloomers and chemises.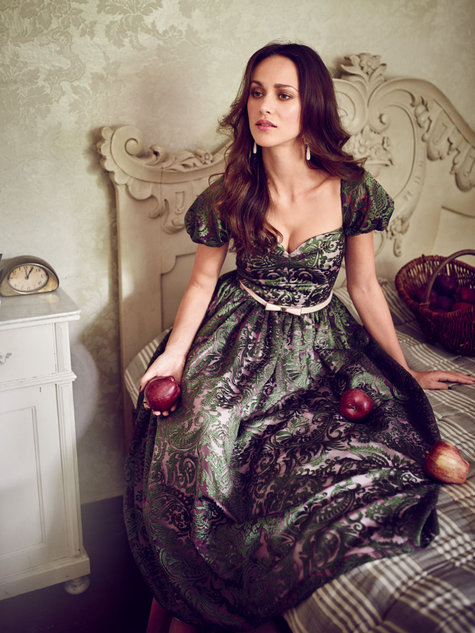 Burda's Princess Dress

Vintage, Celebrity and Designer Patterns
Choosing to update a vintage pattern using fabrics that were not available in the past is a way to give new life to vintage and celebrity patterns . Deco dresses, designer dress patterns created for Hollywood stars like Gertrude Michael are available to buy.
Vintage cocktail dress patterns and evening gowns can easily become unique prom dresses and are available in many styles and lengths
Bridal gowns and bridesmaid dresses can also be sewn in different fabrics and adapted to create stunning prom dresses. Substituting sheer polyester for satin, colored fabric for white, and open weave lace for tulle, turns an exquisite bridal gown into a one-of-a-kind prom dress.
Prominent clothing designers also offer patterns suited for prom dresses.

Costume Patterns
If you like Victorian, Renaissance or Southern Belle designs Simplicity has patterns for these historic European dresses for that Southern look. Simplicity also offers undergarment patterns including a corset pattern. You may need a pattern like this even if you choose a modern strapless prom dress.
With Simplicity patterns you will also find crinolines for southern style dresses. Check out their patterns for capes of all types. Butterick , McCall's, and Vogue offer historic costume patterns, vintage, evening wear and bridal patterns. There are also free prom and costume patterns available online.
Choosing the perfect style in the fabric you want, with the embellishments and trim that suit you, is the best reason to choose prom dress patterns.
With so many patterns available you'll be able to create a stunning, unique and eye-catching prom dress that is sure to be noticed!


Related Articles
Go to top of this Prom Dress Patterns Page
Go back to the Free Sewing Patterns Page
Return to the CreativeSewingTips.com Home Page