Simplicity Sewing Patterns


Like many great ideas, Simplicity Sewing Patterns filled a niche when many women's magazines failed during the Great Depression of the 1930's.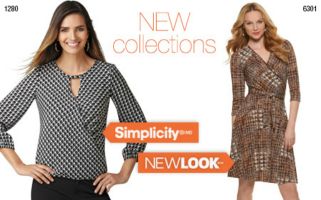 James Shapiro, a Russian born immigrant used his marketing and advertising skills to provide inexpensive sewing patterns at a low cost.


Beginner Sewing Patterns
Beginner sewing patterns are available from Simplicity. You will be able to complete many of these in an hour or less. Simplicity's "It's Sew Easy" patterns are also inexpensive.
Patterns often include accessories that complement the clothing. Girls jackets with matching skirts and hats, sundresses with matching bloomers, two piece unisex sleepwear and aprons with matching potholders are just a few of the Simplicity sewing patterns available.
"It's So Easy" pattern options include different sleeves, bottom edging and hem lengths allowing you to sew more than one piece of clothing from each pattern.


Intermediate Patterns
Simplicity offers sewing patterns in all skill levels and once the basic concepts of sewing are mastered, intermediate patterns provide more design options and complex pattern pieces. Simplicity has always provided


Step-by-step instructions.


Fabric recommendations.


A notions list for all items that will be needed to complete the project.


Pattern layout guides.
With this detailed information, you can complete your projects easily. You will be sewing comfortable, well fitting items with a professional look!
Advanced Sewing Patterns
Project Runway patterns provide advanced sewers with chic attire, special occasion dresses including evening and bridal gowns.
Simplicity's historically correct patterns from the Elizabethan period include corsets, crinolines and panniers that are as accurate as those made during that time period.
Men's three-piece suits, christening gowns and lined, scalloped valance curtains are additional advanced patterns offered by Simplicity.


Simplicity Sewing Assistance
Simplicity understands that some sewing projects can be frustrating and works hard to ensure that all patterns contain easy-to-follow directions.
Simplicity also offers sewing books, sewing & quilting supplies, tutorials and a toll free telephone number for pattern or sewing assistance, 1-888-588-2700.
Educational programs from Simplicity provide home school, public educational facilities and non-profit agencies with a number of programs for sewing projects. 

Explore Other Creative Sewing Uses For Your Patterns
Charities are always in need of donations and many organizations welcome hand sewn clothing and accessories.


Substituting Velcro for buttons, side closing pants, shawls and ponchos are just a few of the sewing ideas that make life easier for those who have limited mobility.


Preemie clothes, adult sized bibs and paw covers for service dogs are other sewing projects that can be donated.
Simplicity sewing patterns are available at many fabric stores, online and through many auction websites. New, vintage and out of print Simplicity patterns can add style and fashion to anyone's wardrobe.


Related Articles
Plus Size Sewing Patterns - Sew Clothes That Fit!
Sewing Patterns For Dogs - Sew Up All The Stylish Clothing and Accessories Any Dog Could Need!
Costume Sewing Patterns - Choose The Right Pattern And Materials
Go to the top of this Simplicity Sewing Patterns Page

Go back to the Free Sewing Patterns Page

Return to the CreativeSewingTips.com Home Page