Antique Singer Sewing Machine Value - How To Discover Your Machine's Value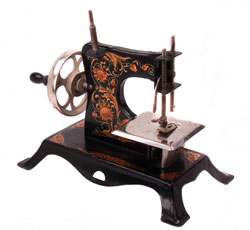 The antique Singer sewing machine value often appears to be low as many older machines are sold for pennies at estate sales and thrift stores.
The good news is that specific manufacture dates, children's machines and limited edition Singer sewing machines often have a high collectible value.
Hand Crank Sewing Machines
Singer began manufacturing sewing machines in the mid 1850's. Shortly afterwards Singer sewing machines could be found in homes all across America.
The early hand crank sewing machines have a higher value than treadle sewing machines made a decade later. The Singer Fiddlebase hand crank machines built in the late 1880's were portable and decorated with decals. This sewing machine averages a value of about $500 as an antique sewing machine.
A child's machine, in working condition, has an antique Singer sewing machine value of almost double that of an adult machine.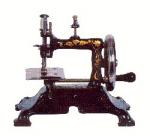 AlphaSew AM100 Antique Replica of Handcrank Chainstitch Sewing Machine
Turtleback Singer Machines
Clothing could be sewen faster with a hand crank sewing machine than by hand but these machines were difficult to use and needed a stable base.
Singer Turtleback sewing machines were lighter but their design created problems, especially with the belt which slipped. Because this model was only in production for a few years, the collectible value of this antique Singer machine is high.
Any antique sewing machine's value rises if the machine was owned and used by a historic person. Most Turtlebacks are only found in museums. The value of a Turtleback Singer machine in working order is estimated at one million dollars.


Treadle Machines
Singer treadle machines with ornate cabinets have a higher collectible value than a plain cabinet treadle model. Like other antique sewing machines, past ownership also influences a machine's value.
Singer treadle machines are often found at thrift stores and estate sales for under $100. If you are good with your hands, restoring them can increase their value.


Mechanical parts, treadle belts and accessories are available for these types of machines. Replace rusted or damaged parts with newer ones since many Singer parts are interchangeable.
Featherweight Machines
During World War II metal was scarce. Collectors are now looking for sewing machines from 1941. The Blackside Featherweight antique Singer sewing machine value is over two thousand dollars - many collectors want authentication before they will buy one.
Collectors are eager to find Singer machines made in 1947, such as the Featherweight 221 models and the long bed Singer 301. If the serial number is intact, there are many online sites to help you in finding out the age of an antique Singer sewing machine.


Buying or Selling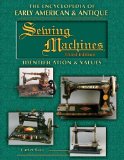 Determining the value of an antique Singer sewing machine can be difficult.

Online auction houses, collectors and antique guides including the The Encyclopedia of Early American & Antique Sewing Machines (Encyclopedia of Early American Sewing Machines)
by Carter Bays can help.

Some collectors will appraise a sewing machine, but many charge a fee to do so.
Antique Singer sewing machine value is determined by age, condition and original owner.

If you have an older Singer sewing machine, discovering it's collectible value may be difficult but worth the effort.

Many of the best antique sewing machines are found tucked away in the attic.


Related Articles
Singer Sewing Machine Repair - Maintain Your Own Sewing Machine
The Revolutionary Antique Treadle Sewing Machine
History of The Sewing Machine
Refurbished Sewing Machines - Quality Machines at Excellent Prices
Go to top of this Antique Singer Sewing Machine Value Page

Go back to the Compare Sewing Machines Page

Return to the CreativeSewingTips.com Home Page