Sewing Patterns For Wedding Dresses
There are hundreds of sewing patterns for wedding dresses available from all the top pattern companies and some of the top private designers.
Choosing the perfect wedding dress pattern may be more difficult than sewing the dress!

Styles
Sewing patterns for wedding dresses are available in styles ranging from traditional to modern, chic to avant-garde, for beginner, intermediate and advanced sewers.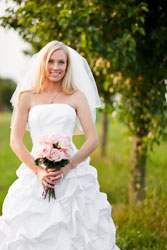 Depending on the style of wedding dress you choose, you may also need an undergarment pattern to complete your ensemble.

Follow the fabric recommendations and notion requirements and you will be sewing the wedding dress of your dreams at a fraction of the price of a ready-to-wear dress.
Preparing to Sew
Wedding dress patterns often come with many pieces. You'll find some seams may have to be sewn by hand if intricate beading, sequins or trim is included.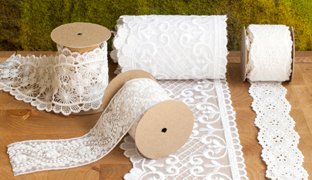 Once you have chosen the wedding dress pattern, take the time to read the construction guide and fabric recommendations. Wedding dresses may take more time to sew than other garments.
You will likely need the help of another person for hemming and fitting your dress. It's a good idea to baste the dress together before sewing it permanently.
Basting and fitting at this point makes it much easier to make any necessary alterations to the dress.
French seams provide an elegant finish to these dresses but also take more time because each seam is sewn twice.
Fabrics
Create wedding dresses from many types of fabrics including silk, satin, brocade and taffeta.
A size eight traditional-style dress pattern with a short train will need eleven yards each of lining and dress material, and four yards of brocade. A dress of the same size without a train will take about ten yards each of fabric and lining and one yard of brocade.

Try a "Vintage Veils Class" at Craftsy!
Notions can include horsehair braid that shapes contours, round or half-round buttons, seam binding and zippers up to 36-inches long depending on the size of the dress.Buying your bridal fabric by the bolt may save you money as bolt prices can be up to 50% less per yard. Brocade, beaded trim, silk, lace and other trims range from $10 to $100 dollars a yard.
Visit online fabric stores to get an idea of what's available by searching under the term "bridal fabric".
Shopping for fabric online can be a fun and time saving way to explore the endless choices for sewing your own wedding dress.

Patterns
The Wedding Dress: How to Make the Perfect One for You
Choosing your pattern is part of the fun! Exploring your pattern choices online is a great way to start. There are so many online pattern sources it's hard to know where to look first!
Butterick, Vogue and McCall Patterns
Butterick, Vogue and McCall's all offer a variety of sewing patterns for wedding dresses. Many of their patterns offer different construction options. All three companies have veil and undergarment patterns as well. Many of these patterns are downloadable patterns - just buy the patterns online and print them using your printer.
Vogue wedding dress patterns offer beautiful vintage and modern wedding dress patterns.
Simplicity Patterns' special occasion dresses offer a great selection of styles suitable for both wedding and bridal party dresses.

Locating sewing patterns for wedding dresses is a way to express your own personality, creativity and save money by creating the perfect dress.
Related Articles
Simplicity Sewing Patterns
Plus Size Sewing Patterns
Prom Dress Sewing Patterns

Go to top of this Sewing Patterns For Wedding Dresses Page
Go back to Free Sewing Patterns Page
Return to the CreativeSewingTips.com Home Page