Downloadable Sewing Patterns
Finding printable and downloadable sewing patterns is easy if you have an Internet connection, computer and a printer. Patterns for babies, children, and adults as well as sewing patterns for dogs , crafts and interior decorating are just a few of the types of patterns available.
E-Patterns
The digital age has provided many types of downloadable sewing patterns including E-Patterns. These digital patterns download onto your computer allowing you to print out the pieces that you need without the inconvenience of multiple paper pattern pieces.
Prices for E-Patterns range from 99 cents up to $20.00 for intricate patterns including bridal gowns and evening wear. Butterick, McCall's and Simplicity offer downloadable sewing patterns plus there are many more pattern companies offering E-Patterns including independent clothing designers.
Baby Patterns
There are many downloadable baby patterns that can save people money on items that all babies need, such as car-seat covers, diaper covers and cloth diapers , carry slings and toys.
Preemie patterns are also available online, giving parents a fashionable clothing option for the tiniest baby. NICU-friendly patterns give these tiny babies comfort without interfering with lifesaving medical equipment.
Vintage baby patterns are also available for download onto your computer.
Printing Downloadable Patterns
Downloading patterns is easy; getting them printed may pose some problems. Software is available for printable sewing patterns that will tile downloaded patterns printing out sections using a standard home printer. Autodesk DWF is a CAD software program that will tile a large image into sections for assembling after printing.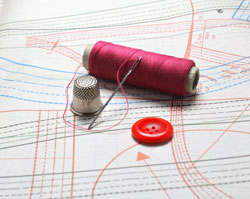 Some retail copy stores have large paper copiers that can print your complete pattern. The cost at these print shops, however, may make the downloadable pattern more expensive than buying a traditional paper version.

SewingPatterns.com offers sewing patterns that will automatically print after purchase in the correct size and style you've ordered. SewingPatterns.com offers patterns from Butterick, See and Sew, Kwik Sew, Simplicity, McCall's, New Look, Burda and more.

Free Sewing Patterns
Print free downloadable sewing patterns that are available in all sizes, shapes and difficulty levels using your desktop printer.
Check the instructions before downloading any sewing patterns you want because some online patterns need a second download for the instructions.
With the volume of online patterns available, easy projects, modern fashion and style are only a few seams away.

Related Articles
Plus Size Sewing Patterns - Sew Clothes That Fit!
Go to the top of this Downloadable Sewing Patterns Page
Go back to the Free Sewing Patterns Page
Return to the CreativeSewingTips.com Home Page